Responsible: Dr. Gabriel M. Bilmes
Participants:
- Dr. Mercedes Morita
- Dr. Pedro David Gara
- Lic. Angelica Guerriere
- Prof. Marcela Andruchow
- Dr. Daniel J. Orzi
- Est. Florencia Novoa
- Est. Gabriel Ravassi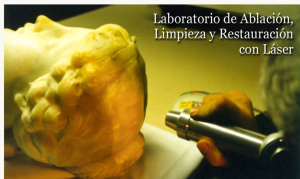 Research topics
Research, development and services in the area of ​​cleaning, restoration, surface analysis and characterization of materials, using laser techniques.
Application of photonic techniques in industry, archeology and heritage conservation.
Laser cleaning: Cleaning by laser ablation of superficial dirt of objects of heritage value (old papers, manuscripts, sculptures, pieces of glass, metal, cloth or leather).
Analysis and characterization of materials by Plasma Spectroscopy generated by Laser Ablation- (LIBS) - Laser Induced Breakdown Spectroscopy.
Laser-induced photoacoustic (LIOAS, LAIP).
Pulsed photoacoustic applied to photochemistry, solution compounds and nanoparticles.
Development of methods and instruments for industrial applications and process quality control based on optical and spectroscopic, photoacoustic and luminescence techniques (Laser Equipment for Cleaning Accreditation; laser microsoldering, thickness measurement instrument).
Development of systems for recording 3D images (Photogrammetry with Structure From Motion, Laser Scanning, RTI). Applications in heritage conservation.
AndesLIBS Program
AndesLIBS is a program for the analysis of atomic spectra, with free and free access developed by LALRL-CIOp and the Laser Technology Laboratory of CICATA, Altamira, Mexico.
To access the executable program go to: https://drive.google.com/file/d/10CreQH5g_24BN7wcGJQLHcjVixZYFPbV/view
Lines of research: